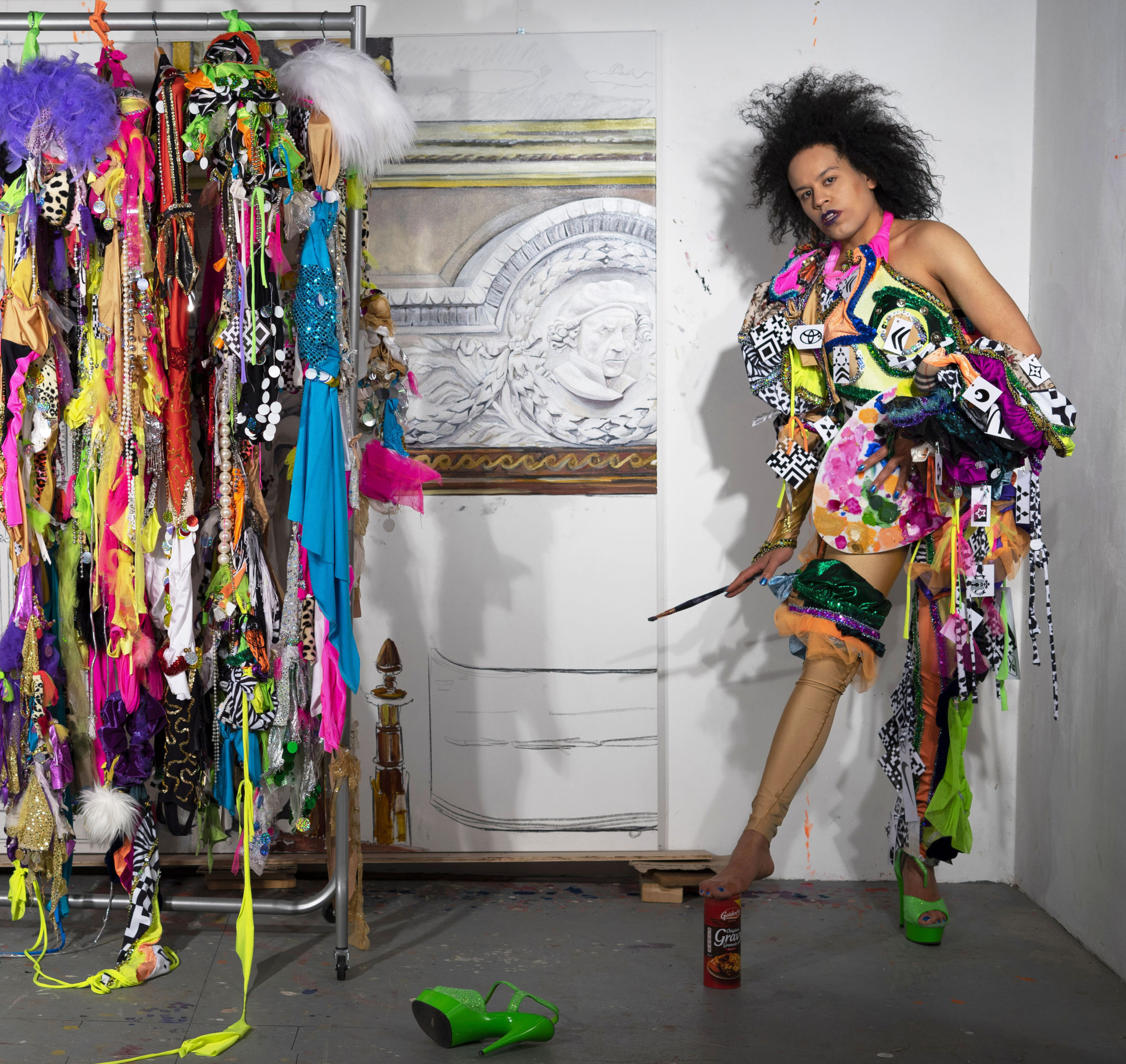 Press Release: Quilla Constance's new exhibition
15th June 2023
Militant 'punk' artist Quilla Constance brings a new large-scale exhibition to The Higgins in Bedford
Artist Quilla Constance (also known as QC) will showcase eight new large-scale oil paintings and a costume-installation at The Higgins Bedford for her solo exhibition Teasing Out Contingencies. The exhibition opens on June 17 and will run until January 7, 2024.
As British society becomes increasingly polarised, this exhibition seeks to cross social borders, confront stereotyping, and challenge gender, racial and class inequalities.
Stylistically QC's paintings for this project employ a range of artistic techniques such as realism, surrealism and abstraction, and situate members of the public within opulent interiors from Buckingham Palace. Scenes from QC's paintings depict people holding diverse objects – everything from a pineapple to a brass candlestick, through to a box of Mr Kipling cakes!
Students from Bedford college are featured posing with objects and interacting with other workshop participants from London and overseas in one of QC's paintings titled: Carnival Throne.
QC's costume installation titled: The Grenadiers will also be on display at The Higgins. It will showcase costumes worn by workshop participants at Tate Modern, transforming these outfits into a piece of sculpture!
QC's artworks for this exhibition also reference her maverick performance workshop with presenter-comedians Rob Beckett and Romesh Ranganathan, for the BAFTA nominated TV series Rob & Romesh Vs on SKY Max. The show first aired during Covid-19 lockdown and made Teasing Out Contingencies accessible during the pandemic when Tate Modern was closed.