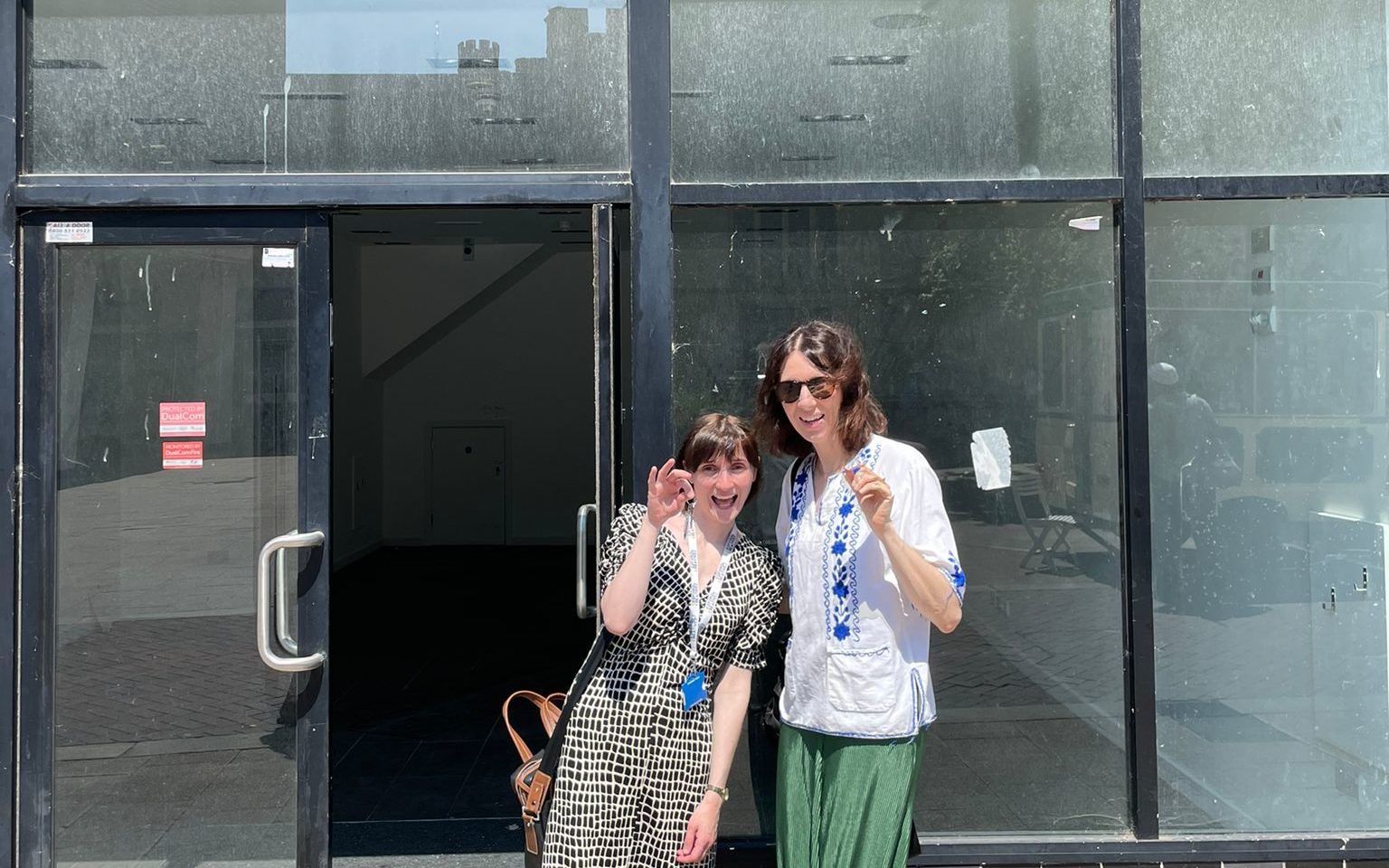 Press Release: POP ART
20th June 2023
Pride of Place Bedford: turning empty shops into creative energy in the heart of the town
Artist and Creative Producer Talia Giles and Bedford Creative Arts (BCA) have come together to launch a new initiative that will use empty shops across Bedford's town centre for community-led projects produced by local creatives.
Pride Of Place (or POP for short) is a placemaking project that invites landlords to offer up vacant retail units so that they can be used for pop-up window art exhibitions, community projects, events and shared studio spaces.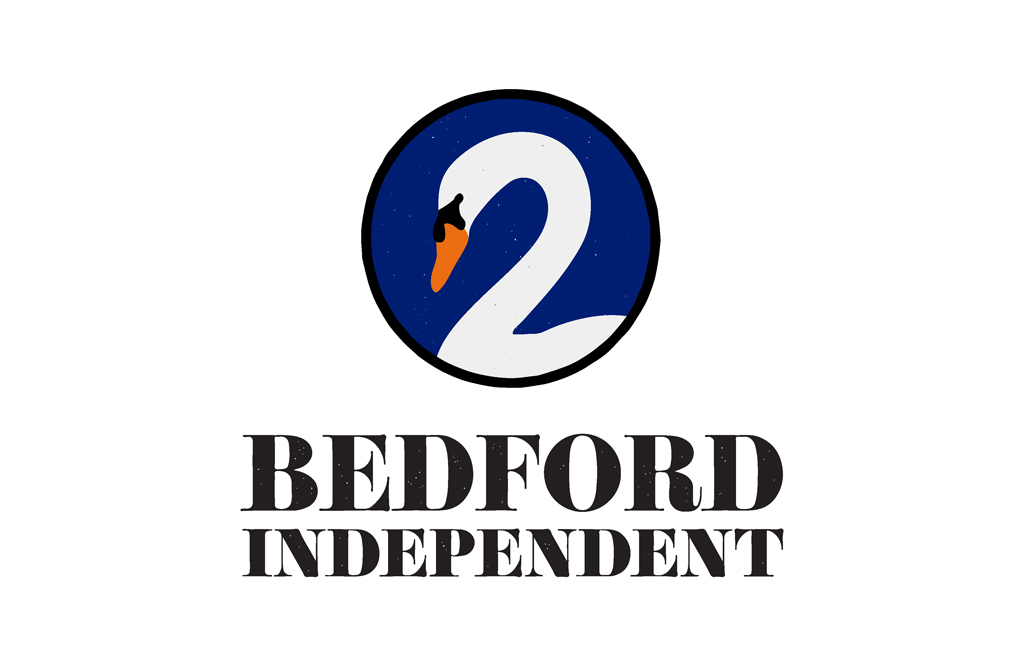 From 12th July 2023, the first creative pop-up space entitled 'POP Bedford' will be opened to the public on 5 Midland Road (the old Virgin Media store) until at least 20th August. A space for everyone, there will be an exciting programme of events, workshops and co-creating opportunities starting with a High Street Explorations interactive drawing day with the Bedford Urban Sketchers. The pop-up will culminate in a celebratory exhibition of the work made from 16th August.
POP are currently looking for volunteers and very interested in hearing from the people of Bedford, so invite you to attend their Community Drop-In mornings, or come and chat over in the conversation corner.
We want to strengthen connections between the community and our town centre through creative use of empty spaces around our diverse town. These spaces will act as an extension of the public realm through accessible, experience-based interactions and cocreating for those living, working, and visiting Bedford. POP Bedford is a pilot project to trial ideas and find out what the community of Bedford would like to see and use long term."

Talia Giles, Founder of Pride of Place – Bedford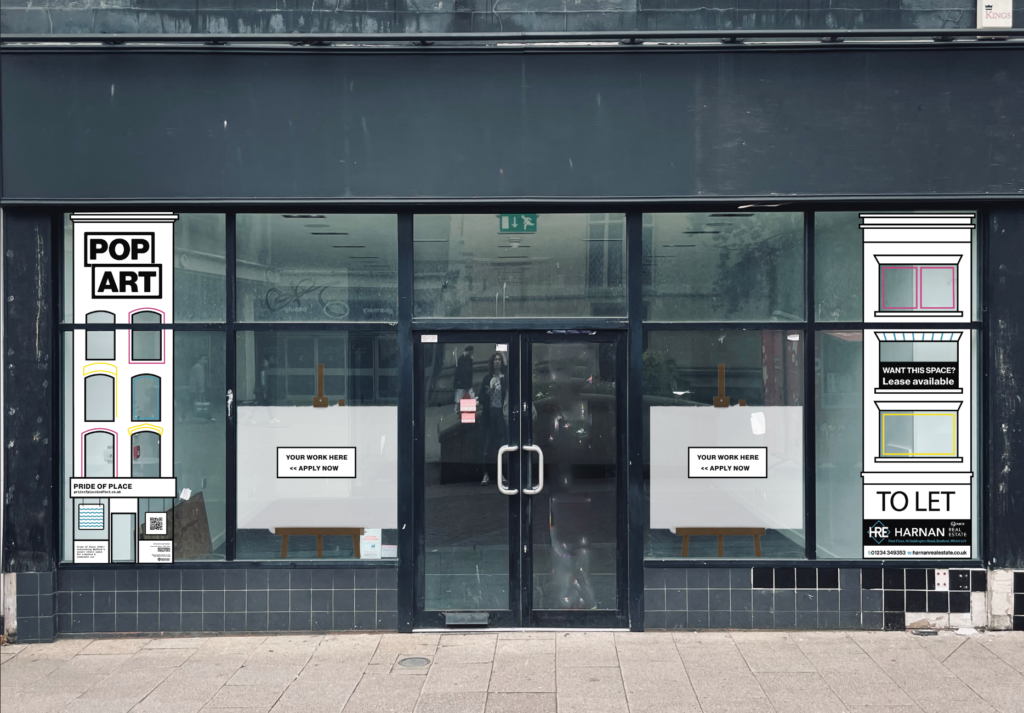 Temporary creative uses for empty shops are a great way for landlords to reduce their business rates on units that have been empty for some time whilst brightening up the high street for everyone in a way that attracts footfall, and really importantly, provides a platform for local creative talent to be showcased

Elaine Midgley, Director of Bedford Creative Arts
In addition to the POP Bedford programme inside 5 Midland Road the windows of the unit will also be used for a POP Art exhibition and a licence has also been secured for a unit in the old Arcade for exhibitions running throughout the Summer months. An open call for artist to apply for exhibition space is on the POP website and negotiations are ongoing with local landlords with more possible units on the horizon.
These first projects have been supported with grant funding from Bedford Borough Council and generous support from landlords and property agents including Kirkby Diamond and Harnan Real Estate.
"It's a win-win situation to have a creative charity
occupy an empty retail unit. I can continue to market the unit to tenants whilst the unit is being used in a way that brings new life to the high street and supports other local businesses and artists"

Patrick Harnen, Harnan Real Estate
Please follow the link below for more information about what's on in the POP spaces, visiting and opening hours, volunteering opportunities, paid artist opportunities, studio spaces, how to apply to hold or produce an event, and how to offer up a unit if you are a landlord or property agent can be obtained from the website.
POP ART
Reinventing Bedford's vacant retail space for creatives & the community