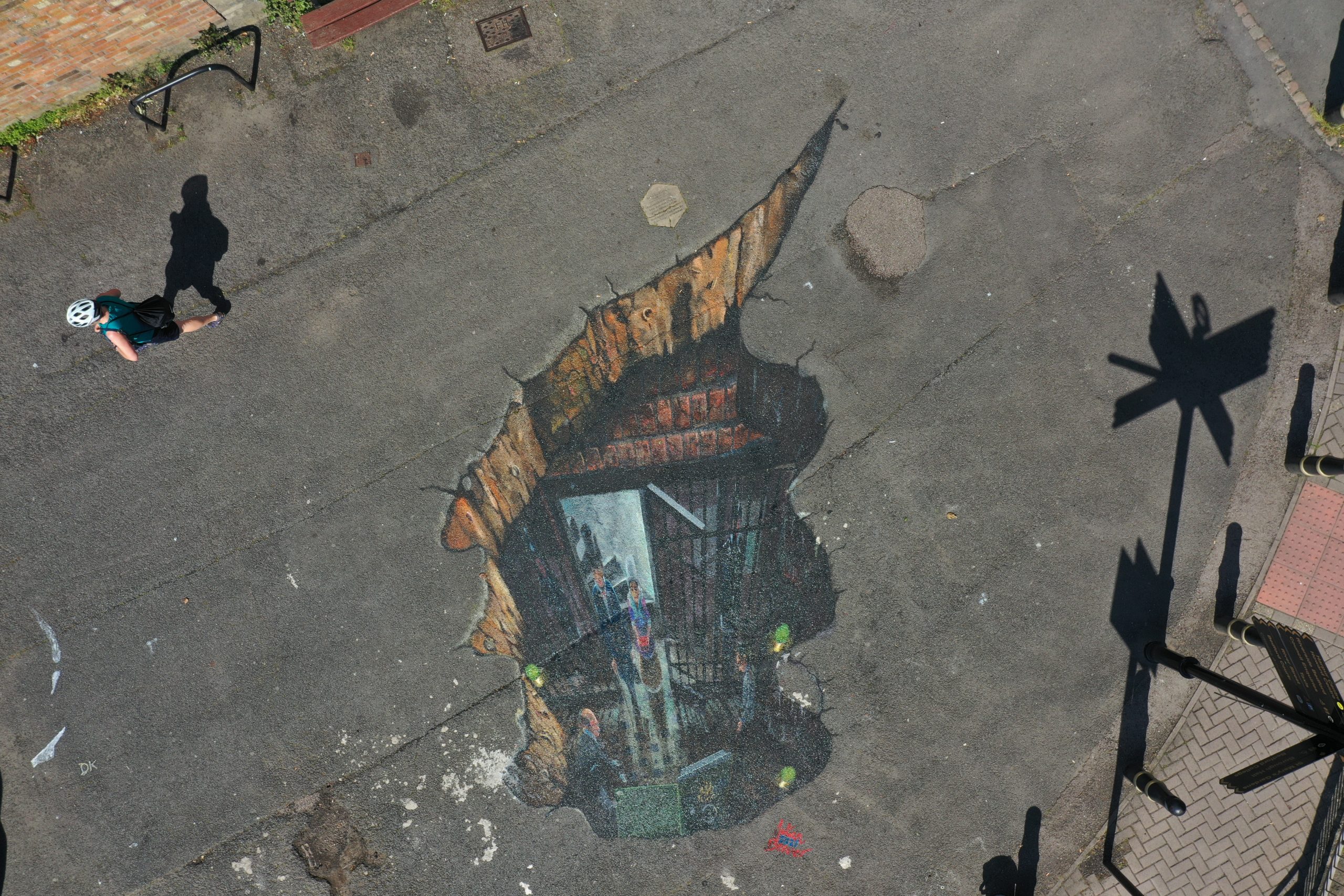 Help us test 'The Vault' – a new AR game in Bedford Town Centre
30th August 2023
Experience the mystery buried beneath Bedford's High Street! Legends say that Bedford Bank's vault was left behind after the bank was demolished because it was too large to be safely removed. Through the game, you will go on an exciting heist to attempt to break into the vault and steal the money left behind!

The Vault Game – BCA & Clemence Debaig of Unwired Studio
We have commissioned Clemence Debaig of Unwired Studio to create a series of Augmented Reality Murals around town. The aim is to engage audiences around Bedford's heritage, as well as the murals themselves, through digital and playable experiences.
We are looking for participants to help us test the experience before it is launched next month!
How to test
Start from the vault mural, which is located at 3 High Street, Bedford, MK40 1SQ (opposite Nando's) [map]
Please see the image attached for what you are looking for! (hint: look down!)


Once arrived on site, please open ONE of the links below on your mobile phone and follow the instructions. You won't need to download anything.
Please note that we will install a QR code under the mural for visitors to discover the app.


Follow the instructions to find the combination of the lock.
Please note that you will need about 15 minutes to complete the puzzles.


Fill out the feedback form below to let us know how it went!
Testing links
There are 6 chapters in this heist. The chapters will be released on a monthly basis. But for the purpose of the test, we have created specific URLs to allow you to test all the heists. Start with one chapter (pick the one that inspires you, not necessarily the first one). You are very welcome to do more than one if you would like.
What we are looking to test
The app is in its first version and you might encounter a few issues. This is why we need you! We are looking to hear from you on the following points:
If you managed to find the right combination!
Feedback on the experience
General ease of use of the app
Any technical issues / bugs
If you encounter any bugs, we would really appreciate if you could take screenshots and send them to Clemence Debaig directly, using this email address: clemence.debaig@gmail.com
How to provide feedback
Please use this form to provide feedback:
https://forms.gle/2mRFtPGvgVnbhfNV6
Your answers will be collected anonymously, please feel free to give us your honest opinion!
When to test
Feel free to test in your own time, whenever is convenient for you.
We are still looking for more people to test!
If you know anyone who would be interested, please send them a link to this webpage or click the sign up button here.